LYNWOOD | The flier reads "iWatch Lynwood — do you?"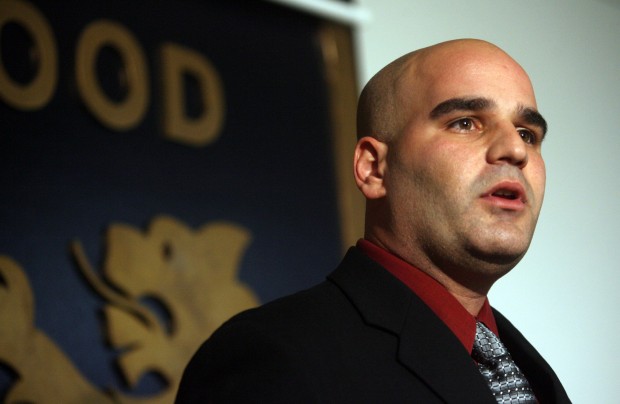 ---
If everything goes according to Police Chief Michael Mears' plan, the answer will be a resounding yes.
Mears scheduled a meeting of village police, dispatch and administrators with software creator Dan Elliott, of iThingWare, who wrote the app called iWatch. Elliott demonstrated the app for the audience and explained its many uses.
"The app can be downloaded and run on iPhones, Blackberrys and all Android phones," Elliott said. "It is a mobile crime watch tool that all residents can use to report suspicious or criminal activity."
Mears found information about the app on the Internet and contacted Elliott.
"This is the exact kind of tool we want to give to our residents," Mears said. "The download is free to our residents. The village is paying for this tool to help us fight criminal activity in Lynwood."
Once a resident downloads the app, they can report any suspicious or criminal activity and remain anonymous. If a resident chooses to disclose information such as name, address or phone number, they can do so, but the default is to send the tip to the police anonymously.
"People feel more comfortable reporting to police if they can do so without fear of repercussion," Elliott said, "so the app will allow them to send tips and withhold their private information."
Residents will have several ways to report a tip — through a phone call, a text message, online at iWatch.com, or the app. They also can attach videos and photos to the tip and have them sent to police.
"We get calls from residents where they tell us events are happening as they watch," Mears said. "Now they will be able to send us a picture of exactly what they are witnessing."
Tips will be routed to the Lynwood police dispatch unit. If warranted, those tips can be sent directly to laptops of squad cars out on patrol.
Lt. John Blair, from the Cook County Sherriff's Department, attended the meeting to witness the smart app.
---
"We would be interested in tying our county information with local municipalities," Blair said. "Exchanging information between communities will help all of the law enforcement units."
iWatch is in use in Atlanta, Philadelphia, Cleveland and Dallas, according to Elliott. Lynwood is the first village in the Midwest to use it.
Mears hopes Lynwood is the first of many.
"I will be happy to demonstrate the app to law enforcement officers from any of the surrounding Illinois and Indiana communities," Mears said. "All they have to do is contact me and schedule some time.
"It would be great if we could take this from a neighborhood watch tool to a communitywide watch tool," Mears added.
A demo of the app can be downloaded now. Residents just need to go to their mobile phone's app store and search on iWatch. The actual app will be available for download and use on May 1. As part of the download, residents will get a video that explains how to use iWatch.